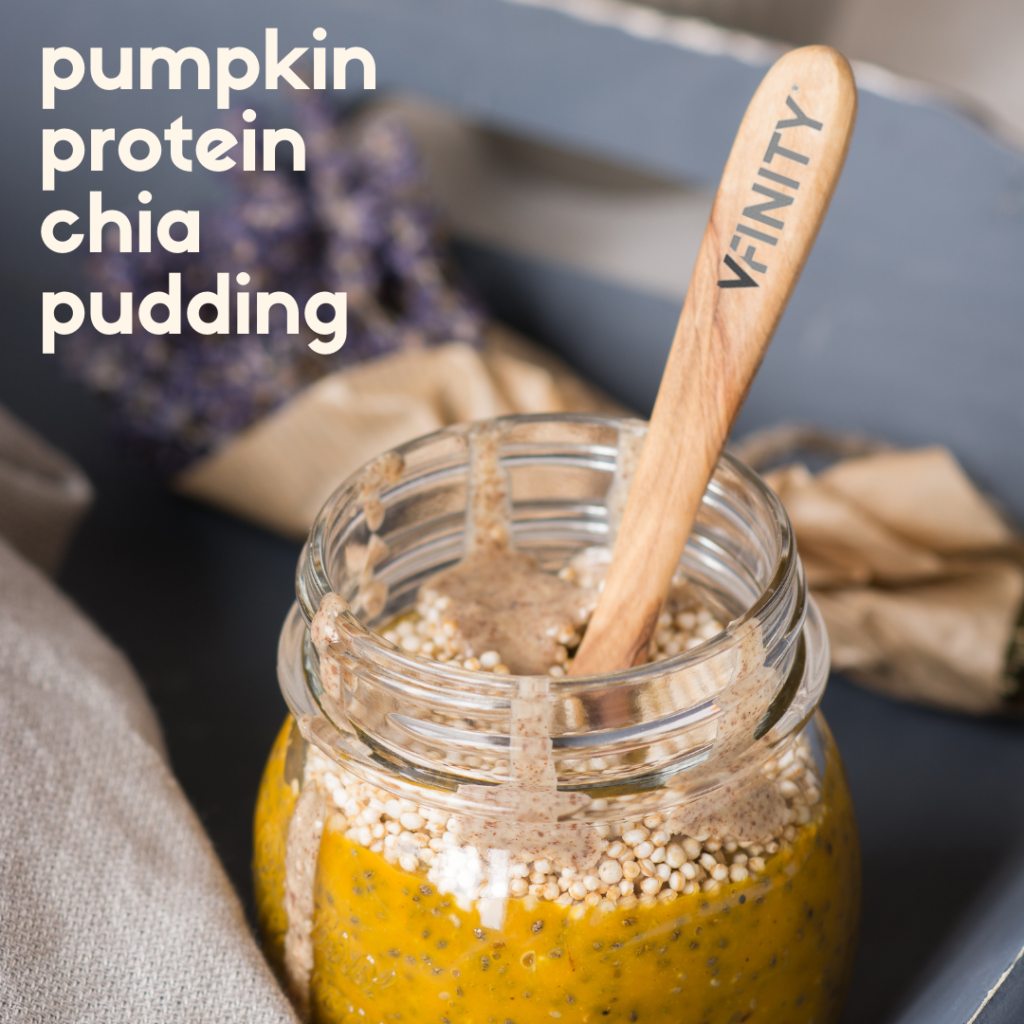 Quick and Easy Pumpkin Protein Chia Seed Pudding
by Deanna Eliashevsky
VP of Marketing and Product Sales
My pumpkin protein chia pudding gives your tastebuds and senses the perfect fall treat while also bringing a nutritious dish to your family's table. (Yes….even the kiddos will love it!)
Pumpkin is incredible and for many reasons beyond its yummy fall flavor. Pumpkin has many health benefits because it's loaded with minerals like calcium, potassium, and phosphorus. Packed with tons of Vitamin A and the antioxidant, beta-carotene, pumpkin is good for your eyes, fills you with lots of fiber, and keeps your skin healthy and glowing!  This recipe also contains lots of chia seeds, which are full of Omega-3 fatty acids, fiber, protein and many other health-promoting nutrients.
Why is pumpkin protein chia seed pudding so great?
It tastes just like pumpkin pie.
No cooking required.
Super easy to make. (Mix in bowl. Pour into jar. Place in fridge and chill!)
No added sugar.
Can be eaten for breakfast, lunch, dessert, or as a snack.
Dairy-free, gluten-free, and vegan.
Ingredients:
1 1/2 cups pumpkin puree (canned or fresh)
1 scoop V1 Smoothie Protein Powder
1 1/2 cups almond milk

 

1 1/2 teaspoon pumpkin pie spice
1/8 teaspoon sea salt
1/4 cup chia seeds
1 to 2 teaspoons maple syrup to taste
Instructions:
In a medium bowl, combine almond milk, pumpkin puree, V1 Smoothie, pumpkin pie spice, salt, and maple syrup.

 

Use a whisk to stir ingredients until mixture is smooth and has an even consistency, or If you don't care for the texture of chia seed pudding mix in blender in smooth and creamy. It will create a smoother pudding with the same lovely flavor.
Add in chia seeds and mix or blend again to fold in seeds.
Pour into 8 oz glass mason jars, cover with lid, and chill for 4 hours or until set.

 

Serve cold and top with fresh fruit, a sprinkle of cinnamon, or chopped nuts.
Leftovers can be stored in fridge for 3-4 days before being enjoyed.