Celebrating Success
Celebrating 2200+ pounds my friends have lost!
Who are these friends? What is this movement?
The power of Facebook is amazing! When people started seeing my results, they wanted to know what I did, so I shared and voila, many friends later, here we are! Well not here exactly, but we've been gathering in my Facebook wellness group living well and thriving to 100. The beautiful thing about this is that they are friends from my whole life; grammar school, high school, sports I've played, Rutgers University, sorority sisters, places I've worked (McDonald's, MCI/Verizon, other wellness companies), and friends through my kids' schools or activities. This group has even grown onto the next generation, where we have friends of friends. Regardless, we all have one thing in common, we had all gotten to a point where we needed to take control of our health!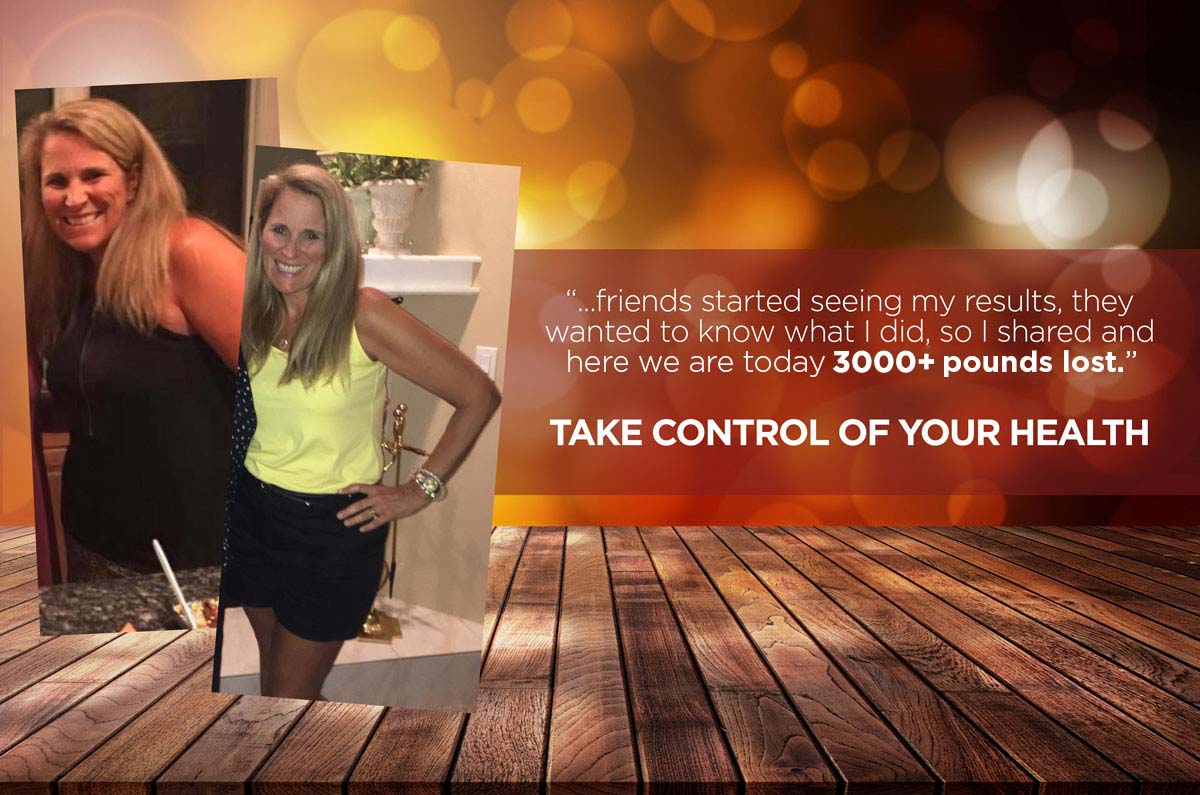 "That struggle is so real! I started dieting when I was 12. I've been a Weight Watchers Lifetime Member since I was 19. I am the self-crowned Princess of Dieting!! Name the weight loss plan, I've done it. I knew every trick to maintain or control my weight. But that all changed in my late 40s and got worse when I hit 50. Things that had worked, were not working! I was stuck! I spent the past few years trying to lose, and gained another 10 pounds. I finally got sick and tired of having a closet full of clothes with nothing to wear and feeling disgusted and defeated. I also worried about what my health would look like in my 60s and 70s if this trend continued. I am helping my parents, and now I am seeing the toll "diet related illnesses" takes on the heart, the brain and the body. Gratefully, I don't take any prescription medications, and I want to keep it that way. I want to be the best role model for my children."
I Needed 4 things to Take Control of My Health
The desire
Education on the plan with research behind why it would work
Proof it had worked for others like me
Support from those who had already succeeded with the plan
My friends inspired me, and now I am inspiring others. But what I am really excited about is the exponential possibility this movement has, as friends continue to help more friends!
As a group we are down 1600+ lbs! But that is only the weight loss.
The "Non-Scale Victories" (NSV) give me chills; being able to take the stairs instead of the elevator, cholesterol dropping 50 points, blood pressure coming into normal ranges, relief from digestive issues, trouble sleeping, rings fitting, dropping 2-3 sizes or shopping in your own closet again, shopping in your daughter's closet, wearing shorts or a bathing suit for the first time in years, or maybe even wearing a bikini again! I could go on and on! It is one thing to take control of your own health and feel better than you have in years, but multiply that feeling by 100, when you can help others in this same way!
I am so grateful for everyone on this journey with me, for their willingness to share when things are going great or to ask for help when they get stuck! This is helping me to learn even more! I am so excited about what we are doing for each other. I could do cartwheels thinking about the possibility of helping even more people take control and feel as good as I do!
My plan is to be passionately leading this charge, and taking on each new decade as it comes.
Some of my friends have shared their success, and now their friends are getting started. I'm building a "franchise type" training model for this, so everyone can take what I have started and help others if that gets them excited too! While we are shrinking in terms of our weight, new people are joining every day and this movement is growing! Join Us!
We are Living Well and Thriving to 100! YAY!
Hear from Jill's Friends:
"About a year and a half ago I realized that some changes were in order. This has been a journey of ups and downs. It's funny how you learn to accept yourself at different stages in that journey. Started exercising and eating smaller portions and began to see some progress, and lost 10 lbs. But until I changed what and when I was eating, I couldn't get past that, no matter how much I was exercising. Now after starting this I've lost another 15 pounds. I am seeing the results that I have been wanting. This plan and the Vfinity products have helped with how I think about food. I feel in control. Yesterday someone called me 'tiny'. I haven't been called tiny since before I had my daughters, 30 years ago! Very grateful for the Vfinity products and the support we all offer each other to reach our goals." – Cheryl, FL
"It's been about 10 weeks from start. Down 25 pounds. Clothes are too big, rings fit again, people are noticing. I feel so much better, especially about myself. Loving my results. With my daughter's wedding being planned for next fall, about 30 more to go. I can do that for sure. Have a little over a year to achieve. I am seeing numbers now that I haven't seen in 20 years. GO ME!!!" – Christa, NJ
"Exciting news for everyone! I haven't done well these last two days, although leading into it, I'm down 18 lbs and 7 inches overall since starting this wonderful product on June 4th! I'm so thankful to @Jill Knast LaFond for sharing her lifestyle changes and this product with all of us! Keep up the great weight loss my wonderful shrinking friends!!!

I've dieted my entire life! I totally gave up carbs those first few weeks…I would love a piece of bread! Pasta has been tough, but if I want it, I take a much smaller portion than I would in the past. I will continue to do this lifestyle change, although it is hard during the summer months with so much going on. I definitely am much more conscious as to what I'm putting on my plate! This journey has just begun, and I want it to last a lifetime! It is easier when you finally make up your mind and having all this support, besides the support of my family, is really helpful! And also having such a wonderful product to incorporate along with the mindset is really a bonus! Can't wait to see what this next 30 days brings!!!

I'll say it again Jill~your passion is what inspired me! Thank you!" – Gina, NJ 
"I got back into another size down (smallest I have in my closet) pair of jeans this weekend. Feeling like myself again! And still over 2 months without a migraine!!

I'm just amazed at how easy it has been!! Changing my diet and my way of thinking about food and to have lost so much so quickly, when for years it just never seemed to budge! And I love the feeling of not being alone in the journey! That has made so much difference.

Another NSV for me is that I used to love the beach and pool, but over the past few years after gaining 25-30 lbs I NEVER wanted to be seen in a bathing suit. Even my live in boyfriend has only seen me a couple times over our 3 year relationship. I missed out on pool and beach days because of it. We are heading to the beach tomorrow for the day and I feel so much better and more confident. The same went for any kind of social outing. My clothes didn't fit and I never had anything cute to wear, so I'd opt out of being out and about. I'm a social creature, so that was def out of the ordinary for me. Happy to be back out there!!! I have been so not myself. And the bloat made me look pregnant. I love the fact that nothing tastes as good as skinny feels!

I love that we all can relate so well to each other's struggles and cheer each other on to success! Yay for all of us for taking control!" – Robin, NC (down 22 lbs in 2 months)
"Congrats to everyone losing with Vfinity. I'm down 26 lb since Feb. 27. Feel GREAT. I'm able to do things I was not able to do, and it's a work in progress. Because of what I do, I'm an ice skater, I want to get down around another 5 lb or so, so it's easier on my joints and I can jump until I'm 75! or older…..Good day all. Love the Cheat sheet, Jill." – Kris, OH
"Jill! You are changing many lives and I thank you tremendously for changing mine!" – Ann, NJ (down 32 lbs in 90 days)