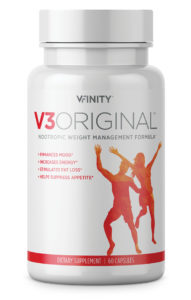 V3 Original™
$75
Preferred Customer Pricing: $60
save $15 when you sign-up as a Preferred Customer!
Click here for more info
V3 ORIGINAL – This cutting-edge formula is a powerful and proven way to lose weight!*
Formulated with scientifically researched weight loss ingredients to provide maximum results.

Burn more calories

Increased Energy

Essential Vitamins for your daily life to help metabolize proteins, carbs, and fats.
*V3 Original is formulated with scientifically researched weight loss ingredients and provides best results when combined with a calorie restricted diet and moderate exercise.
WARNING: V3 ORIGINAL might cause loss of inches and pounds.
Enhances Performance and Stamina*
Amps Up Your Metabolism*
Helps Suppress Your Appetite*
Promotes fat burning.*
Boosts physical energy without jitters or irritability.*
Supports and enhances a positive mood.*
Improves focus and concentration.*
The V3ORIGINAL formula upgrades boost the product in the following ways:
Over 20 times greater absorption of the ingredients contained in the V3 ORIGINAL capsule allowing you to feel the product sooner than before!
Extended-time period of how long the V3 ORIGINAL nutrients work in your body.
Accelerated thermogenesis (clinically shown to increase fat and calorie burn by 65 calories alone in the first hour of use!)
Enhanced mood properties (if you love the happy effects now from V3 ORIGINAL, this will have you smiling all day!)
Reduction of potential jitters caused by caffeine sensitive users, allowing more people to tolerate the product than ever before.
20 mg reduction in caffeine per dose (180mg vs. 200mg).
V3 ORIGINAL is an effective tool to help you achieve a healthy lifestyle.
Directions For Maximum Effectiveness:
Take two (2) capsules daily early morning or early afternoon, or two hours after a meal, with (8) ounces of water. For additional energy, an additional two (2) capsules may be taken. Do not exceed four (4) capsules per day.
Avoid taking after 4:00 PM to ensure proper sleep. Proper nutrition and exercise are vital components of a weight control program.
Thiamine (Vitamin B1)
This water-soluble vitamin needs to be replenished each day and is essential for a variety of functions, including cardiovascular, muscular, and your nervous system.
Riboflavin (Vitamin B2)
A micro-nutrient that is a water-soluble vitamin which is essential for red blood cell formation and helps the body metabolize vitamins and minerals.
Niacin (as Niacin Niacinamide)
Part of the B-complex, this water-soluble vitamin helps convert calories from proteins and fats, and energy from carbohydrates.
Vitamin B6 (Pyridoxine)
Known to synergize with the entire vitamin B-complex to metabolize proteins, fats, and carbohydrates and promotes healthy cardiovascular, nervous, and immune systems.
Vitamin B12 (Methylcobalamin)
An important component of the B-complex, this crucial vitamin helps your body maintain energy levels and a healthy nervous system.
Pantothenic Acid
An essential nutrient, this water-soluble vitamin supports the adrenal gland and aids in the secretion of hormones.
Chromium Polynicotinate
Considered an essential trace element, this metal contributes to weight loss by increasing muscle and decreasing body fat.
B-Phenylethylamine (PEA)
This naturally-occurring chemical improves your sense of well-being by increasing your dopamine levels.
Citrus Aurantium Fruit Extract
Increases metabolic rate and fat-burning and shows synergism with caffeine.
A beta-agonist similar to ephedrine, but less potent and has been shown to be safe and free of adverse side effects
When taken by healthy subjects at rest has been clinically shown to increase caloric expenditure by 65kcal with no significant influence on blood pressure or heart rate.
InfinergyTM (Dicaffeine Malate)
A form of caffeine that naturally boosts energy and stimulates the nervous system.
L-Theanine
Theanine promotes relaxation without sedation and helps you stay calm without making you tired or drowsy.
Reduces stress and improves attention.
Theanine helps take off the edge of many stimulants, and a synergistic effect is seen when coupled with caffeine in promoting cognition and attention.
Caffeine Anhydrous
A natural chemical found in plants.
CocoabuterolTM (Theobroma Cacao Extract)
Cocoabuterol natural cocoa (Theobroma cacao L.)
Promotes fat burning, increases blood flow, enhances mood and has antioxidant effects, supports physiological pathways which improve insulin sensitivity, supports muscle protein synthesis, decreases skeletal muscle atrophy.
DynamineTM (Methylliberine)
Boosts mental and physical energy without jitters or irritability.
Supports a positive mood, increases motivation to exercise, and improves perceived focus and concentration. Does not lead to rapid tolerance or habituation.
BioperineTM (Black Pepper Extract)
BioperineTM is the trademarked version of piperine, a black pepper extract that increases the absorption of various nutrients and inhibits the breakdown of fat-burning compounds such as caffeine and the catecholamines, prolonging the effects of stimulants and increasing their bioavailability.
Piperine also reduces LDL cholesterol and plasma lipids while elevating HDL cholesterol and the thyroid hormones.
Good Results
I've been taking V3 for 5 years now. I love this product. It gets me through the tough gray days and days where I am tired. It helps me make better food choices too. My mood is always better when I take this. I have gone a few months without it and it was a mistake because I could tell, but I couldn't afford it because of the pandemic. I am now back on it and love my V3
Awesome Energy And Appetite Control
This product wakes me up and keeps me from raiding the fridge! Helps with the mood too on down days. A great pick me up.
Great Energy
All day energy. No crash. I'm even losing some weight!
Amazing Product
These pills are amazing. I have used them for many years, and they help me control my weight, and the natural energy is amazing!
What is V3 ORIGINAL?
V3 ORIGINAL is a premium weight management formula designed to enhance performance, increase metabolism, and suppress appetite with its powerhouse blend of vitamins and unique ingredients to initiate total weight management support. Its a simple, effective solution that puts you back in charge of your health and wellness.


---

What are the benefits of using V3 ORIGINAL?
V3 ORIGINAL helps to enhance vitality, stamina, and improve your overall mood. By stimulating thermogenesis in the body, V3 ORIGINAL works naturally with your body to help boost metabolism while suppressing appetite and hunger for total weight management support.


---

How do I take my V3 ORIGINAL?
For best results, take two (2) capsules daily on an empty stomach with 8 ounces of water in the morning or early afternoon, or two hours after a meal. For extra energy, an additional two (2) capsules may be taken. DO NOT exceed four (4) capsules per day. Avoid taking after 4 p.m. to ensure proper sleep.


---

Does V3 ORIGINAL contain nootropic nutrients and what do they do?
Yes. The nootropic nutrients in V3 ORIGINAL help enhance cognitive function and improve overall mood!


---

Can I take other Vfinity products while using V3 ORIGINAL?
All Vfinity products fully support your body as part of a healthy weight management program. Each works synergistically together and promotes a healthy balance for a total lifestyle transformation system. Along with proper nutrition and exercise, Vfinitys health and wellness program are designed to put you back in charge.
*These statements have not been evaluated by the Food and Drug Administration. This product is not intended to diagnose, treat, cure or prevent any disease.