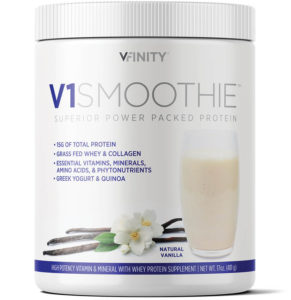 V1 Smoothie™
$65
Preferred Customer Pricing: $50
save $15 when you sign-up as a Preferred Customer!
Click here for more info
Power Up with Protein enhanced with Collagen
(15 servings)
POWER UP WITH PROTEIN
 by indulging in our 
V1 SMOOTHIE
 enhanced with 
ADDED COLLAGEN
 for improved skin and stronger hair and nails!*
Our new V1 SMOOTHIE is a convenient and healthy weight wellness meal support that promotes your overall health and vitality!
What makes our enhanced V1 SMOOTHIE a standout product
?
Superior source of power packed protein
Incredible Natural Vanilla Taste!
Sustains Energy Without Hunger*
Promotes Weight Loss by Igniting Your Metabolism*
Builds, Restores and Maintains Lean Muscle*
Contains added collagen for improved skin and stronger hair & nails*
Whole food, premium ingredients that you can feel good about
V1 SMOOTHIE contains whole food ingredients that help to BUILD LEAN MUSCLE MASS* and IGNITE YOUR METABOLISM TO BURN FAT FAST*, while giving your body instant energy and nutrition from premium ingredients such as:
15G protein
Grass Fed Whey & Collagen
Essential Vitamins, Minerals, Amino Acids & Phytonutrients
Greek Yogurt & Quinoa
Live Probiotics
Dietary Fibers
100% RDI of Vitamins & Minerals
Premium All Natural Ingredients
Directions For Use: For adults:
Combine 1 scoop of V1 with 8 ounces of water. For children ages 4-11: combine 1/2 scoop of V1 with 4 to 8 ounces of water. Mix or shake well until dissolved. For best results, drink chilled within 15 minutes or blend with ice for a creamier texture.
Quinoa
Considered the "Mother Grain" by the ancient Incas, this grain is high in protein and amino acids, magnesium, and dietary fiber.

Greek Yogurt
This Super Food is high in protein, calcium, and Vitamin B-12. The low-fat protein helps curb your appetite and the probiotics support the healthy bacteria in your digestive tract.

rBGH-free grass fed Whey Protein
High quality protein to help with muscle growth.

Hydrolyzed Collagen
Helps fill in the missing amino acids (the building blocks of proteins) in the diet. Collagen may promote many health benefits such as anti-aging properties for skin, bone, and joints.

Vitamin A (Vitamin A Palmitate)
A fat-soluble nutritional compound that promotes many health benefits and can be found in both animal and plant sources.

Vitamin B1 (Thiamin)
This water-soluble vitamin needs to be replenished each day and is essential for a variety of functions, including cardiovascular, muscular, and your nervous system.

Vitamin B2 (Riboflavin)
A micro-nutrient that is a water-soluble vitamin which is essential for red blood cell formation and helps the body metabolize vitamins and minerals.

Vitamin B3 (Niacin, Niacinamide)
Part of the B-complex, this water-soluble vitamin helps convert calories from proteins and fats, and energy from carbohydrates.

Vitamin B5 (Pantothenic Acid as d-calcium pantothenate)
An essential nutrient, this water-soluble vitamin supports the adrenal gland and aids in the secretion of hormones.

Vitamin B6 (Pyridoxine HCI)
Known to synergize with the entire vitamin B-complex to metabolize proteins, fats, and carbohydrates and promotes healthy cardiovascular, nervous, and immune systems.

Vitamin B12 (Methylcobalamin)
An important component of the B-complex, this crucial vitamin helps your body maintain energy levels and a healthy nervous system.

Vitamin C (Ascorbic Acid)
This vitamin is one of the most effective nutrients to promote overall health and wellness.

Vitamin D (Cholecalciferol)
Known as the 'sunshine' vitamin, many foods are fortified with Vitamin D and it helps the body regulate its mineral levels

Vitamin E (D-Alpha Tocopheryl Succinate)
A fat-soluble vitamin that maintains health at the cellular level and can support the body's natural ability to remove toxins.

Vitamin K (Phytonadione)
Taken to reduce the effects of aging, Vitamin K helps maintain bone health.

Bamboo Fiber
This supplement is high in insoluble fiber that is high in silica which promotes the formation of collagen and promotes the growth of hair, nails, and skin.

Biotin
This is the lesser known B-complex vitamin known also as Vitamin B7 is essential to many health functions.

Calcium (Calcium Carbonate)
Helps you develop and maintain healthy bones and muscles*

Chromium Polynicotinate
Considered an essential trace element, this metal contributes to weight loss by increasing muscle and decreasing body fat.

Folate
Another water-soluble B-Vitamin that promotes the healthy development of the human body.

Guar Gum
Derived from guar beans, this water-soluble fiber improves digestion and also improves the taste and texture of V1.

Iodine (Kelp)
As a trace element, Iodine is essential to transport oxygen to cells, metabolize energy, and in hormone production.

Luo Han Guo
A non-caloric, natural fruit sweetener that the ancient Chinese believed to aid in longevity.

Magnesium (Magnesium Citrate)
A combination of magnesium salt with citric acid that is water-soluble and helps balance the body's pH.

Manganese (Manganese Gluconate)
A combination of the mineral manganese with glutamic acid that supports many essential bodily functions.

Molybdenum
This trace mineral helps the body break down proteins.

Selenium (Sodium Selenite)
This is a form of selenium, a salt that helps activate antioxidant enzymes.

Stevia
This natural plant-based sweetener sweetens foods without causing the blood sugar to rise.

Sugar Cane Fiber
A natural unprocessed plant-based fiber that helps slow digestion and improve taste.

Sunflower Lecithin
An important lipid that promotes a healthy brain and body cells

Zinc (Zinc Gluconate)
An essential trace element that helps boost the immune system and can help boost your athletic performance.
V1 Smoothie
I drink it everyday-gives me energy, fills me up and holds my cravings back.
Best Shake Ever
I used to take shaklee, advocare and Herbalife. Then someone sold me this shake. WOW. It tastes like CANDY! it fills me up, and it has all the vitamins I need in my day. I was paying more at the other companies for shakes and they were not nearly as tasty as this
Best Tasting Shake EVER
This shake tastes like all the guilt without the sugar or carbs. I use it at lunch instead of a meal. I feel so good everyday after drinking this. It smells incredible too when you open it. It helps me lose weight TOO
Tastes Like A Vanilla Cupcake
This is the best tasting shake Iv'e ever had. It tastes like a cupcake without ANY of the guilt. A great meal replacement for lunch that fills you up and makes you feel good. I make mine with cold water fyi but I've seen many recipes and ways people take it
Loving The V1 Smoothie
Just wanted to say thanks for the enhanced V1Smoothie. I am a busy gal and it's nice to know I can put a scoop in my blender cup with water or almond milk and drink it in my car. Knowing I am getting my vitamins in really makes me happy
V1 Smoothie
I've taken several protein products that I've purchased for unnamed supplement stores and payed way more for product. This product tasted amazing and gives amazing results with a combination of your diet and light exercise. We really enjoy all of the Vfinity products and can't wait to see how you feel as well. Enjoy!!!
What is V1 SMOOTHIE?
V1 SMOOTHIE is a superior source of power packed protein with a unique blend of ultra-premium ingredients, vitamins, proteins, probiotics, high-fiber Quinoa, Greek yogurt cultures, collagen, and other valuable nutrients.

When is the best time to take my V1 SMOOTHIE?
V1 SMOOTHIE can be taken at any time as a nutritious option to build lean muscle mass and ignite your metabolism to burn fat FAST! With no added fillers, preservatives, chemicals, or added sugars (including NO aspartame or maltodextrin), you can feel good about what you're putting into your body any time of the day or night!

What are the benefits of using V1 SMOOTHIE?
With an incredible vanilla taste, our V1 SMOOTHIE will power you up with premium, all-natural protein that helps to sustain energy while keeping hunger pains away! Our V1 SMOOTHIE promotes weight loss by igniting your metabolism to burn fat and assisting to build, rebuild and maintain lean muscle. V1 SMOOTHIE also offers the added benefits of live probiotics, essential vitamins and minerals, high-fiber Quinoa, Greek yogurt cultures, collagen, and other valuable nutrients for abundant nutrition and instant energy!

How do I use my V1 SMOOTHIE?
For Adults: combine 1 scoop of V1 SMOOTHIE with 8 oz of water. For Children ages 4-11: combine 1/2 scoop of V1 SMOOTHIE with 4 to 8 oz of water. Mix or shake well until dissolved. For best results, drink chilled within 15 minutes or blend with ice for a creamier texture.

What makes V1 SMOOTHIE different from other products in the marketplace?
V1 SMOOTHIE contains premium ingredients such as vitamins, proteins, probiotics, high-fiber quinoa, Greek yogurt cultures, collagen, and other valuable nutrients. V1 SMOOTHIE provides 100% of the required daily intake of all essential vitamins and minerals your body needs as compared to 35% in most other shakes and smoothies on the market today! The best part is it has NO fillers, NO preservatives, NO chemicals, NO added sugar, NO aspartame and NO maltodextrin! You can feel good about our trusted and proven Vfinity line of products with labels that contain ingredients you can actually read and understand! Getting healthy has never felt SO good!

Paying by ACH
If you place a Vfinity order using ACH (electronic check)as the form of payment, your order will NOT ship out until we receive notification from our bank that the payment has cleared, meaning the funds from your account are available for payment. Please note that your order may take up to 7 business days to process before your products are shipped out.


*These statements have not been evaluated by the Food and Drug Administration. This product is not intended to diagnose, treat, cure or prevent any disease.