Vfinity Loyalty Rewards Program
GET REWARDED FOR GETTING YOUR PRODUCTS AT YOUR DOORSTEP MONTHLY!
Vfinity's Loyalty Rewards Program (VLRP) rewards you for ordering your products monthly. With VLRP you will earn up to 20% of the commissionable volume of your product purchase back in rewards points with no limits on the amount of points you can earn! Simply become a part of our VLRP automatic shipment program and start earning points that are redeemable for your favorite Vfinity products! The longer you maintain your products on VLRP, the higher your earning percentages climb!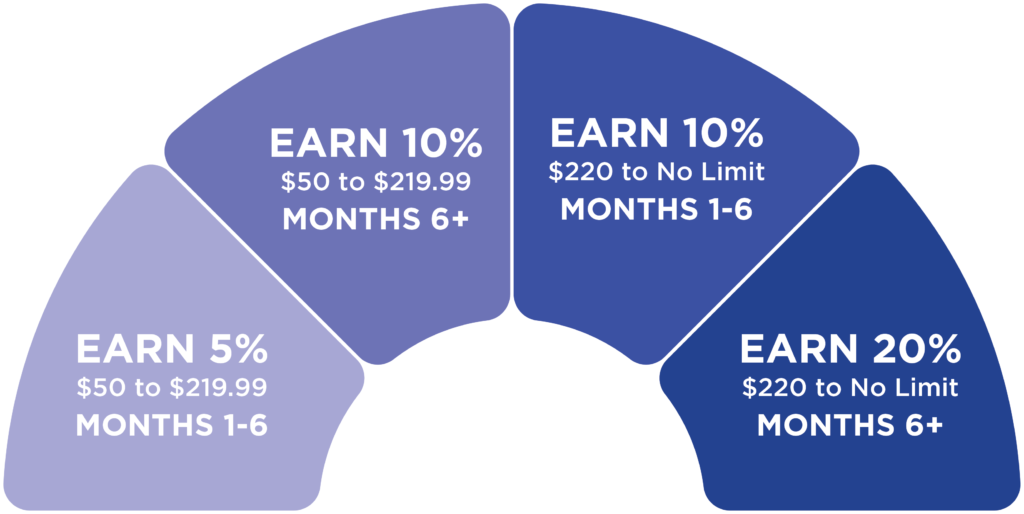 BENEFITS:
Earn back 5% in rewards points for any VLRP order between $50-$219.99
Earn back 10% in rewards points for any VLRP order at $220 or above
DOUBLE your rewards percentage by maintaining your VLRP automatic shipment for a minimum of 6 months
No limit on points earned
Easy & convenient way to insure you meet your minimum PV and bonus qualification requirements
Points are redeemable for all individual Vfinity products at full wholesale cost
Fantastic way to incentivize your new team members to begin earning rewards immediately
TERMS & CONDITIONS:
Points are redeemable for all individual Vfinity products at full wholesale cost
Points may not be redeemed on discounted product PAKS or product specials
Points are not transferable and have no cash value
Points expire after one year
Points may not be used to pay for shipping or sales tax
Points have no commissionable value
Points are redeemable once a Lifestyle Consultant has maintained an active VLRP automatic shipment for a minimum of 60 days
A minimum monthly VLRP automatic shipment with $50 of PV is required in order to earn points
VLRPs will automatically be cancelled with cancellation of a VLRP automatic shipment
Must maintain consistent monthly VLRP automatic shipment after month 6 to earn double rewards. Any cancellation of a VLRP automatic shipment will cause the double reward promotion to terminate & restart at month 1
Must be a Vfinity Lifestyle Consultant with an active account